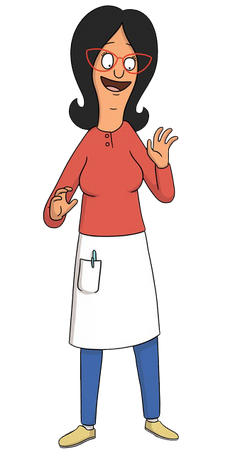 Linda Belcher is the secondary protagonist of Bob's Burgers.
She is a wife of Bob Belcher and mother of Tina, Gene and Louise Belcher.
Appearance
Linda is a tall woman with an red-orange v-neck shirt (Previously a button-up), blue jeans and large red glasses along with yellow shoes. She has black hair and peach skin. She is about 5'8" and has blue eyes.
Personality
Linda supports her husband Bob's dream through thick and thin. She has a joyful enthusiasm for whatever she undertakes, from dinner theater to synchronized swimming to road rage.
She is lenient and supportive toward her whole family, while still garnering their love and respect. She is especially kind to her unstable sister, Gayle, encouraging Bob to have a pretend affair with her to raise her self-esteem, and allowing Gayle to hang many anus-themed paintings in the restaurant.
Linda is substantiated by many bourgeois and motherly stereotypes. She is extremely outgoing, flamboyant, feminine, and has absurd obsessions with performing arts and dramatic tradition - she will occasionally take extreme measures to pursue these and make her family/bystanders join her in enacting this. She sings the most of all characters. In Hamburger Dinner Theater, she lies to Bob, telling him she is going to Pickles while going to see a pirate themed dinner theater show. It is possible that Linda may have seen the show before, as she sings along with the actors.
She's always on the lookout for a surprise birthday party or unexpected anniversary present, and her faith in Bob is unwavering. She's prone to bursting into song after a visit to her beloved musical dinner theater, and though she thinks she's an excellent hostess, her blood boils when guests aren't willing to make small talk. Linda is a pushover, always being easily convinced by her kids to do all the work on their school projects, but she doesn't think she's a pushover. Louise in particular, can make Linda do whatever she wants. For example, she has her get the family together for a family meeting, to get her to be the kids swimming coach, and to sell Bob's espresso machine.
Linda is shown to have an obsession with baby related things such as porcelain baby dolls as shown in Burgerboss, a dutch baby pancake in Christmas in the Car and miniature water bottles in Dawn of the Peck.
External links