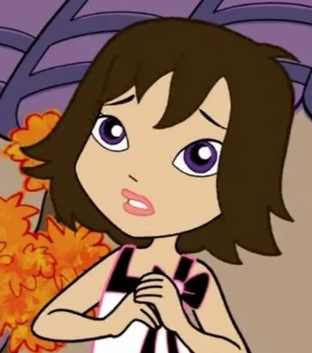 Lila Ruth Buchannon McLoughley Draper is one of the main protagonists of the Polly Pocket franchise. She is described to be cute and fashionable. She's considered the drama queen of the group and believes in superstitions. Her fashion style is glam. She is sweet and is best friends with Crissy Maxwell, as well as a talented dancer.
In the original series, Lila was Polly's best friend and was a shy, quiet, insecure girl, who loved to compliment people on their outfits. She loves reading, animals, music, sports, fashion and was a member of Polly and the Pockets, where she played the keyboard. She also has an enthusiastic interest in photography.
Appearance
Lila has short brown hair and violet eyes. In the first Polly Pocket movie, she's the shortest member in the group. In Pollyville, her hair and eyes change to strawberry blonde and blue eyes. Her style often relies on a rainbow of yellow, green, blue and purple. In the original series, her hair rarely changed length, color, or style like the other main characters. (for example, Polly's hair was sometimes shortened to a bob, sometimes she had bangs and sometimes it was different shades of blonde or had colored highlights in it) In the 2018 series, Lila has long red hair in a high ponytail and green eyes to represent her Scottish heritage.
Sexuality
She has shown to have crushes on Nicholas and Blair Delaware, and even kissed Blair in Socially Awkward.
Gallery
Community content is available under
CC-BY-SA
unless otherwise noted.