This character has been used under the following names below. Navigate using the arrows or by clicking on a name listed on the navigation bar to jump to a specific character name you want to read.
← Previous
|
Other characters for Sam
Leon the Snowman • Sam the Snowman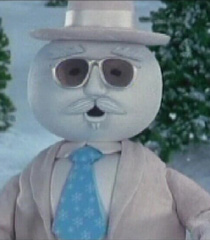 Leon is a snowman who appeared in the film Elf.
Rankin/Bass originated the snowman for Rudolph the Red-Nosed Reindeer and the facial features resemble Leon Redbone as well as his accessories.
Community content is available under
CC-BY-SA
unless otherwise noted.