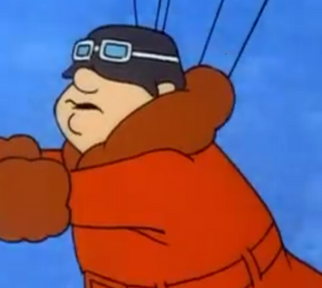 Klunk
is a member of the Vulture Squadron on
Dastardly & Muttley in Their Flying Machines
. Though he is an expert aircraft mechanic, Klunk typically speaks in vocal sound effects which only
Zilly
can understand. He is original
Don Messick
and currently voiced by
Michael Bell
.
And he is also known as kinky, loyal, upbeat, naughty, kooky, keen, level-headed, understanding, noisy and kind-hearted (sometimes). Klunk is an inventive designer. Each episode sees him developing aircraft or weapons (often missiles which home on some bizarre trait, such as a person sneezing) with odd features and attachments designed to catch Yankee Doodle Pigeon. In episode Vacation Trip Trap, Klunk became a leader of the squadron when Dick Dastardly went on holiday. As it is shown in episode Home Sweet Homing Pigeon, Klunk is left-handed and illiterate ("How do you spell 'X'?").
Community content is available under
CC-BY-SA
unless otherwise noted.