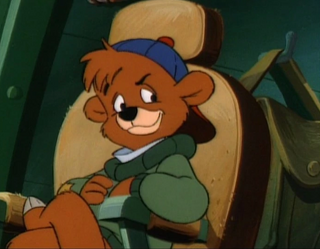 Kit is a young 12-year old, orphaned bear cub full of spirit and spunk, and is Baloo's best friend, partner, and navigator. Before he met Baloo, he was a member of Don Karnage's air pirates. After spending a year with the air pirates, Kit claims that he "got sick of them", and after Don Karnage stole a valuable jewel from Shere Khan, Kit decided to make his move - to take the jewel, leave the pirates, and begin a new life. While trying to escape Karnage (in the pilot episode, "Plunder and Lightning"), he literally runs into Baloo at Louie's place. We get the impression that Kit is fearful and hesitant of trusting adults. But in this same episode, Baloo saves Kit from Karnage, and this appears to be a turning point for Kit. He opens up to Baloo, and begins to trust and admire him. Kit now refers to Baloo as his 'Papa Bear', and loves him like a father. He and Baloo are close friends.
Considering Kit is a former pirate, he has surprisingly good manners and is highly respectful of adults - when he initially introduced himself to Rebecca, for example, he took off his hat, and he refers to her as 'Miss Cunningham'. However, he initially had a "tough guy attitude" likely because of the harsh life he lived.
He greatly enjoys a hobby known as air surfing. Air surfing involves Kit soaring through their air (usually towed behind a plane) on his boomerang shaped board known as his air foil.
Being on his own and having had to fend for himself all of his life, Kit is very independent and street wise. Acting much older than his younger years, he hates being treated like a kid, and loathes the fact that he is too young to get his pilot's license.
Community content is available under
CC-BY-SA
unless otherwise noted.