Line 1:
Line 1:
 

[[File:Kion.png|thumb|181x181px]]

 

[[File:Kion.png|thumb|181x181px]]

 

'''Kion''' (pronounced "Kye-on") is the son and youngest child of [[Simba]] and [[Nala]], the younger brother of [[Kiara (The Lion King)|Kiara]] and the protagonist of ''The Lion Guard'', a movie and television series inspired by ''The Lion King''. As the second born child of The Lion King, Kion serves as leader of The Lion Guard, a team of animals who protect the Circle of Life. He is the fiercest member of the team.

 

'''Kion''' (pronounced "Kye-on") is the son and youngest child of [[Simba]] and [[Nala]], the younger brother of [[Kiara (The Lion King)|Kiara]] and the protagonist of ''The Lion Guard'', a movie and television series inspired by ''The Lion King''. As the second born child of The Lion King, Kion serves as leader of The Lion Guard, a team of animals who protect the Circle of Life. He is the fiercest member of the team.

−
 
 

[[Category:Male]]

 

[[Category:Male]]

 
⚫
−
 
−

[[Category:Heroes]][[Category:Disney characters]]

+

[[Category:Disney characters]]

 

[[Category:The Lion King characters]]

 

[[Category:The Lion King characters]]

 

[[Category:Protagonists]]

 

[[Category:Protagonists]]

−
 
 

[[Category:Lions]]

 

[[Category:Lions]]

 

[[Category:The Lion King Characters]]

 

[[Category:The Lion King Characters]]

 

[[Category:Orange Hair]]

 

[[Category:Orange Hair]]

 

[[Category:Orange eyes]]

 

[[Category:Orange eyes]]

⚫
 
---
Revision as of 05:32, 16 July 2019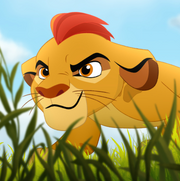 Kion (pronounced "Kye-on") is the son and youngest child of Simba and Nala, the younger brother of Kiara and the protagonist of The Lion Guard, a movie and television series inspired by The Lion King. As the second born child of The Lion King, Kion serves as leader of The Lion Guard, a team of animals who protect the Circle of Life. He is the fiercest member of the team.
Community content is available under
CC-BY-SA
unless otherwise noted.