Template:CReusedcharacters Template:RecycledcharactersSameTitle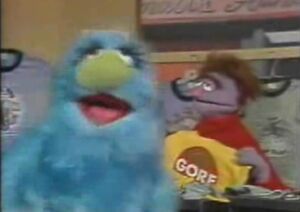 A light blue monster with a green nose, Kermit the Gorf can be seen in a Sesame Street sketch in which Kermit the Frog is frustrated in his attempts to buy a personalized t-shirt from the T-shirt Salesman. The sketch also features Kermit the Grof and Kermit the Forg.
The puppet, which debuted in Season 6 of Sesame Street, is also known as Maurice Monster.
The word Gorf reappeared in The Jim Henson Hour episode 101 with the character Timrek the Gorf - however Timrek was an extraterrestrial frog, not a monster.
See also
The Wonderful World of T-Shirts
Kermit the Grof
Template:OldNewCharacters