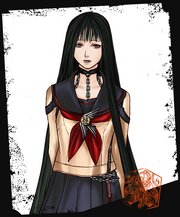 Kasuka Shiraki is a Character of the Kowloon Treasure Juvenile.
Profile
Gender: Female
Birthday: January 26
Blood Type: A
Club Activities: Art Department
About
Kamiyoshi Academy 3rd year group C. A beautiful girl wearing a mysterious and fantastic atmosphere that is hard to approach anywhere, and gives a mysterious word to Kurou Habaki who challenges the "ruins". One of the key players in Game. It features long black hair that seems to reach the floor and a chain that wears it.
Videos
Community content is available under
CC-BY-SA
unless otherwise noted.