This character has been used under the following names below. Navigate using the arrows or by clicking on a name listed on the navigation bar to jump to a specific character name you want to read.
Other characters for Karina
|
Next →
Karina the Ballerina • Olive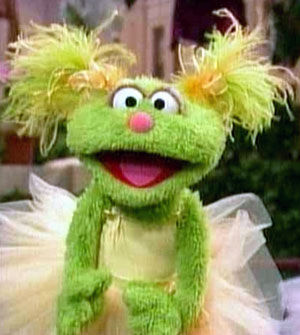 Karina the Ballerina appeared in Sesame Street episode 4091 as Zoe's friend from dance class. They dance with Elmo to the tune of the Rondo Alla Turca movement from Mozart's "Sonata in A."
Her name is a take on Rodion Konstantinovich Shchedrin's 1971 ballet of Leo Tolstoy's Anna Karenina.
The puppet has a similar design to Olive, a main character on the French version of Sesame Street, 5, Rue Sésame.
The year Karina was introduced, Frankie Cordero puppeteered her on the Sesame Street float at the Macy's Thanksgiving Day Parade.