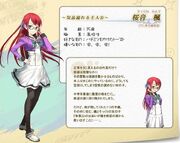 Kaede Sakurane (桜音 楓, Kaede Sakurane) and Akeha (朱葉, Akeha) is a character of the Another Time Another Leaf.
Profile
Kaede Sakurane
Age: 15
Occupation: high school students
Favorite things: toast multiplied by the honey
Dislikes: bugs, insects, insect!
Akeha
Age: 15
Occupation: Kaede mother role of
Favorite things: an interesting incident
Dislikes: that small difficult, it is frustrating
About
Kaede Sakurane
Only appearance to appear normal likely? Though appearance is perfect Its behavior is just what to surprise surroundings. Though the person is doing seriously, absolutely idle to become the girl who can not read the air. Lost his beloved mother after the junior high school graduation, it would have been left behind on the edge of despair. One hand mirror my mother left me. Dwell therein, meeting with look-alike of the girl "Akeha" and maple is ...... that the rescue from the brink of despair a maple.
Akeha
Maple look-alike of the girl that was there in the hand mirror that Kaede was handed from the mother. Only appearance look-alike thing is, the contents are 180 degrees opposite. Sold the fight buy all, trouble interesting thing I love of problem child. Have the ability to go back Vicious Mind only in the past referred to as "Shi Qian (time shooting", or rather ...... that are cooperating to resolve the Nanjiken that occur around the maple by using it, and plunged the neck in the incident to take the lead want. Appearance to scold her mother instead catapult worried about too serious a friendly Kaede also.
Gallery
Community content is available under
CC-BY-SA
unless otherwise noted.