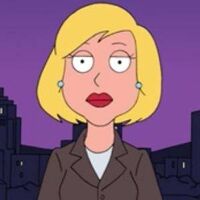 Joyce Kinney, born Joyce Chevapravatdumrong, is one of the Family Guy characters, replacing Diane Simmons after Diane's death as Tom Tucker's co-anchor partner. She hated Lois Griffin since high school when Lois and her cheerleader friends pull a prank on Joyce, blindfolding her, pulling her pant down and a hot dog on her mouth in front of audience, laughing at her, including Lois. She seeks revenge on her by putting Lois' dark secret as an adult film star on News, causing the citizens of Quahog to hate Lois and the church banning her. Joyce and Lois have become friends between "And I'm Joyce Kinney" and "Follow The Money".
Gallery
Community content is available under
CC-BY-SA
unless otherwise noted.