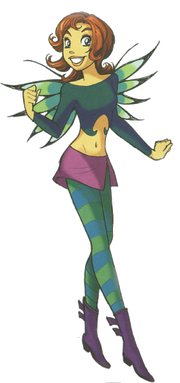 Irma Lair is a character in comic book W.I.T.C.H. and the television series of the same name. She is one of the five teenage girls who are chosen to be the new Guardians of Kandrakar. Their mission is to protect Kandrakar, the center of the universe, and the other planets from evil.
Irma is a 14 year old teen, who is in eighth grade in season 1, and ninth grade in season 2 at the Sheffield Institute. She has light-brown, slightly wavy hair and greenish-blue eyes. her birthday is March 13, and her sign is Pisces. She is voiced by Candi Milo. As the Guardian of Water, Irma controls water as well as having other advanced powers. Her theme color is turquoise and her symbol is a blue wave crest.
Community content is available under
CC-BY-SA
unless otherwise noted.