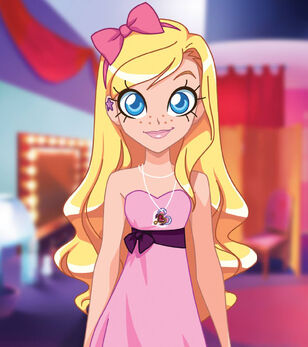 Princess Iris is the main protagonist of Lolirock. She is the princess of Ephedia and frontwoman of the Lolirock band. She became best friends with Auriana and Talia since being chosen as the vocalist.
Character
Appearance
Iris has blue eyes, fair skin, freckles, pink lips and blonde hair. After she transforms, she has pink hair.
Personality
In the beginning, Iris is quite clueless but as her adventure continues, she learns a lot. She is very caring and generous.
Information
Age: 15 years
Height: 165 cm
City: Sunnyville
Princess of: Ephedia