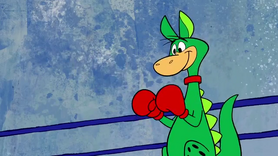 Hoppy is the Rubbles' pet Hopparoo (a kangaroo/dinosaur combination creature), whom they adopt in the beginning of the fifth season. When he first arrives, Dino (and eventually Fred) mistakes him for a giant mouse and becomes frightened of him, but they eventually become best friends in a manner similar to that of their owners. He babysits the kids as he takes them around in his pouch, which also serves as a shopping cart for Betty. Fred Flintstone regards Hoppy as an overgrown and obnoxious nuisance until the fateful day that the Flintstones and the Rubbles go out together on a picnic. The families' lives are endangered during the picnic and Hoppy goes for help.
Gallery
Community content is available under
CC-BY-SA
unless otherwise noted.