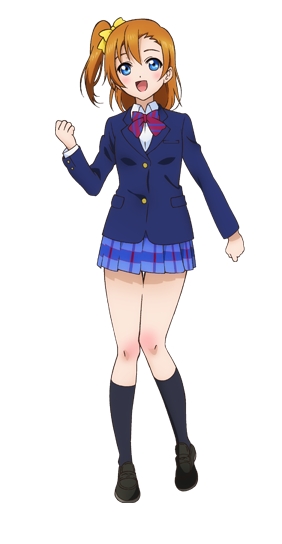 Honoka Kousaka
is one of the nine main characters in
Love Live!
. She is 16 years old and a second year in high school. Honoka was born on August 3 and is a Leo. She has ginger hair, with some of it tied up in a side ponytail, and blue eyes. Her main color is orange. She is 157 centimeters tall, and her blood type is O. She is the center of Printemps, a mini idol unit. Her solo album is called "Honnori Honokairo!". Honoka is voiced by Emi Nitta.
Background
Honoka's family own a Japanese sweets shop. She lives at the back of the shop with her mother, father, and little sister. Since she was young, Honoka has been friends with Kotori Minami and befriended Umi Sonoda after inviting her to a game of hide and seek.
Personality
Honoka is an optimist who is never afraid to take risks. She is always in a good mood and likes to look at the bright sides of things. Honoka doesn't enjoy eating red bean paste despite working at her family's shop that sells Japanese sweets. Honoka is determined and once her mind is set on something, nothing can stop her.
Clubs and Hobbies
Honoka enjoys swimming and sticker collecting. She is the leader of the school idol group μ's.
Community content is available under
CC-BY-SA
unless otherwise noted.