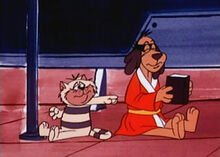 Hong Kong Phooey is a cartoon dog who first appeared in September 1974. Each of his stories begins with him working in a police station until Rosemary gets a phone call explaining a crime. Penry the janitor then jumps into a filing cabinet and emerges as Hong Kong Phooey. In each adventure he ends up needing rescue from his striped cat and sidekick, Spot, though he always takes all the credit. They travel in the Phooeymobile, a green Oriental style car that at the bang of a gong could morph into a helicopter, boat or other suitable vehicle to catch criminals. This is stored in a dumpster bin outside the police station.
His appearance is of an anthropomorphic dog with black ears, a cute face and brown colouring. 
He was voiced by Scatman Crothers, who was a jazz scat singer and musician, who voiced Scat Cat in Disney's The Aristocats.
A live action/CGI hybrid film based on the character of the same name is being made with Eddie Murphy voicing the main character. Test footage of the film was leaked on 28 December 2012 with a Marvin the Martian film project. The release date is unknown at the moment.
Gallery