Jurassic World: Dominion Dominates Fandom Wikis - The Loop
Play Sound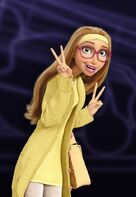 Honey Lemon, also known as Aiko Miyazaki (宮崎愛子 Miyazaki Aiko) is a major character from Disney's 2014 animated feature film, Big Hero 6.
Appearance
Honey Lemon has very short (almost bob-cut) honey colored hair that's usually worn in Boo style (Boo from Monsters Inc.). She has huge nerd glasses that are orange. She is about ten feet tall with her heels on, and with them off, she is six feet. Honey likes to do peace-sign hands a lot.
Typically, Honey wears a yellow sweater that's long, a matching head-band, white leggings, her favorite pair of pink pumps that she never changes out of in the movie except when she's wearing armor, and a yellow tank-top. Honey also carries about a tomato yellow bag her her, twenty-four/seven.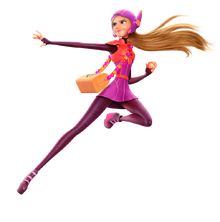 Powers and Abilities
Coinciding with her love of chemistry, Honey Lemon's battle armor is equipped with a special purse, containing a mini chemical lab inside, and a touch screen with an encoding of the periodic table, capable of creating various weapons in the form of palm-sized "chem-balls" through the use of the aforementioned periodic elements. The strap of Honey's purse is a string of empty capsules, made of an advanced polyethylene shell, which are passed into the purse, where syringes inject the chosen chemicals into them. Such concoctions include hardening foam to halt movement, cushioning foam to break falls, ice to freeze enemies, and smokescreens for camouflage.
Quotes
"Oh, my gosh! You must be Hiro! I've so much about you!"
"You're gonna love this! A dash of perchloric acid, a smidgen of cobalt, a hint of hydrogen peroxide, Super heated to five Kelvin, and...TADAAA! It's pretty great, huh?"
(in Spanish) "Foto, foto!"
"Everybody say 'Hiro'!"
"Let's not jump to conclusions; we don't know he's trying to kill us! (Fred: Car!) He's trying to kill us!"
"We're not going to make it!"
"I told you we'd make it!"
"He was such a good man... what happened?"
"Let's do this, Freddie!"
(Blows up a tower of micro bots with her whole purse of chem-balls) "WHOO! Now that's a chemical reaction!"
(to Hotaru Tomoe) Your mother was such a good woman, Hotaru. What happened to her?
Credit
Disney Wiki
]