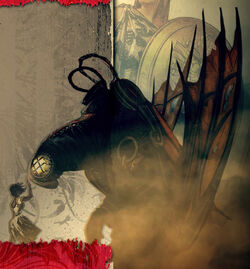 The Songbird, originally called Him, is a 30-foot winged creature that is feared by the citizens of Columbia, and is Elizabeth's guardian. It is an influential character in BioShock Infinite.
History
When Elizabeth was imprisoned in Columbia for fifteen years, a creature, simply called Him, was created for the sole purpose of keeping her in prison and became the most feared creature in all of Columbia. During that time, Him was the child's only company. Although Elizabeth was held captive by Him, the creature had been her caretaker and protector. Eventually, she grew to love Him as her only friend. When she had escaped, the creature was intent to bring her back, even if it meant destroying anyone and anything near Elizabeth, including Booker DeWitt. Although he is a threat to the latter, Elizabeth still loves Him enough to avoid conflict at all costs: if Booker decides to attack Him, his relationship with her will deteriorate.
Community content is available under
CC-BY-SA
unless otherwise noted.