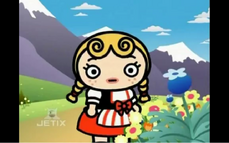 A Swiss girl who appears in the episode "Swiss Kiss' and falls in love with Garu at first sight. She is very to similar to Pucca in regard to her relationship with Garu, and is even stickier than her and tries to force Garu to marry her with the help of her two brothers and her father during her debut episode. However, before they married Pucca interrupts the wedding and takes her out the map of Switzerland.
Credit
Community content is available under
CC-BY-SA
unless otherwise noted.