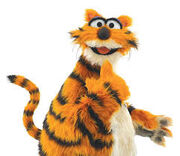 Halum is a Bengal tiger from Sisimpur, the Bangladeshi co-production of Sesame Street.
He was included as a floral sculpture on a 2008 Tournament of Roses Parade float, along with other characters.
In 2008, Christie commented: "Bangladesh got a tiger in the Cookie Monster vein. It's furry and goofy looking, a tiger monster."[1]
Sesame Workshop description
Halum, a tiger, enjoys playing and laughing...even when things go wrong. He doesn't take himself too seriously. Halum, a nurturing character, is loving and helpful to all children. He tends to be emotional and sentimental, especially when it comes to his passion - the environment.
Sources