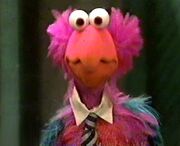 H. Ross Parrot was a character on Sesame Street (remade from the Poco Loco puppet) who spoofed the Reform Party presidential candidate H. Ross Perot. He first appeared in the spring of 1993, promoting the use of the alphabet.
He reappeared in later episodes, including episode 3203, advocating for the "middle" of the alphabet (as the letters A and Z were the sponsors for the day), and episode 3255, where he shows Wolfgang the Seal how important the alphabet is to the existence of fish.
Though he first appeared on the show in April 1993, he appeared months prior on Good Morning America on February 25 in promotion for his debut episode. He re-appeared on the program on April 15 to discuss Tax Day.
Norman Stiles created H. Ross Parrot after watching the real Perot on television. "[I] was listening to his voice and I said, 'Wait a minute, we've got something here'."[1]
Perot himself responded to the character in an appearance on Good Morning America in 1993, laying out his thoughts on the spoof: "No. 1, the nose is too small...No. 2, it's not a real Texas accent. We've got to help him there. No. 3, my family loves it, my grandchildren love it. No. 4, the Birds of the World organization is up in arms about it."[2] He additionally told Newsweek, "I'm sure that parrot thinks he's much better looking than I am."