We're Getting Mutants in the MCU - The Loop
Play Sound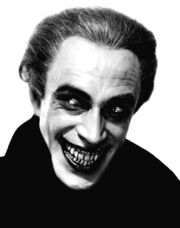 Gwynplaine is son of Clancharlie and disfigured with a permanent grin by comprachico Dr. Hardquannone. Gwynplaine was known to have been an inspiration for the creation of the comic book character, The Joker, Batman's nemesis, by Jerry Robinson, Bill Finger, and Bob Kane.
History
In 1690's England, King James II sentences his political enemy, Lord Clancharlie, to death in an iron maiden. Clancharlie's son, Gwynplaine, is disfigured with a permanent grin by comprachico Dr. Hardquannone, so that he will "laugh forever at his fool of a father". When the comprachicos are exiled, Gwynplaine is deserted. He discovers a blind baby girl, Dea, who has also been abandoned. Together, they are taken in by the mountebank Ursus.
Years later, a now-adult Gwynplaine has become The Laughing Man, the freak show star of a traveling carnival. He and Dea have also fallen in love; he remains distant, believing himself unworthy of her affection due to his disfigurement, although she cannot see it. Meanwhile, the jester Barkilphedro, who had been involved in Lord Clancharlie's execution, is now attached to the court of Queen Anne. He discovers records that reveal Gwynplaine's lineage and rightful inheritance. That estate is currently possessed by sexually aggressive vamp Duchess Josiana.
Queen Anne grants Gwynplaine his peerage and a seat in the House of Lords, and orders Josiana to marry him in order to restore the proper ownership of the estate. Josiana, interested in the estate and perversely attracted to Gwynplaine's disfigurement, attempts to seduce him. Ultimately, he rejects her advances, renounces his title, and refuses the Queen's order of marriage. He escapes, pursued by guards in a chase punctuated by swordplay. At the docks, he meets back up with Dea and Ursus, and rejoins them as they set sail away from England.
Video