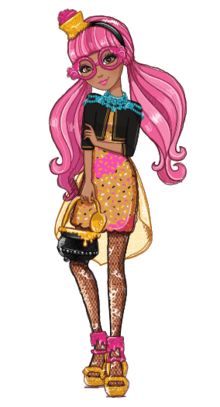 Ginger Breadhouse is the daughter of the Candy Witch and a supporting character in Ever After High.
Character
Personality
Ginger doesn't like her destiny very much and would rather be a pastry chef with her own cooking show.
Appearance
Ginger has hot pink hair, light brown skin and purple eyes. She wears glasses.
Fairy tale
Main article: Hansel and Gretel
Relationships
Family
Ginger's mother is the witch from Hansel and Gretel. Her name is Candy Witch in The Unfairest of Them All, much like Ginger is Ginger Witch in the book. From this it follows Candy's pan-fiction name as Candy Breadhouse.
Pet
Jelly is Ginger's gummy candy fish. She accidentally created it during Science and Sorcery while trying to get extra credit.
Romance
She has a crush on Hopper Croakington II.
External links
Ginger Breadhouse

- Ever After High Wik]