Line 1:
Line 1:
−

[[File:Fin.png|thumb|151px|Fin McCloud Stoked]]

+

[[File:.|thumb|]]

 

'''Fin McCloud''' is one of the six main characters on ''Stoked''. She is fiercely independent and girlishly feminine, but also fun-loving and laid-back. She never backs down from a challenge and uses [http://stoked.wikia.com/wiki/Stoked_Words_and_Phrases surf lingo] on a regular basis. Fin has won first place in the [http://stoked.wikia.com/wiki/Junior_Surfing_Competition Junior Surfing Competition] three years in a row, and is ranked #56 in the world. Initially she was supposed to be the surf instructor at [http://stoked.wikia.com/wiki/Surfer%27s_Paradise_Ridgemount_Resort Surfer's Paradise], but [[Reef]] got the job instead and she was given a position in housekeeping.

 

'''Fin McCloud''' is one of the six main characters on ''Stoked''. She is fiercely independent and girlishly feminine, but also fun-loving and laid-back. She never backs down from a challenge and uses [http://stoked.wikia.com/wiki/Stoked_Words_and_Phrases surf lingo] on a regular basis. Fin has won first place in the [http://stoked.wikia.com/wiki/Junior_Surfing_Competition Junior Surfing Competition] three years in a row, and is ranked #56 in the world. Initially she was supposed to be the surf instructor at [http://stoked.wikia.com/wiki/Surfer%27s_Paradise_Ridgemount_Resort Surfer's Paradise], but [[Reef]] got the job instead and she was given a position in housekeeping.

−

[[Category:Cartoon Heroes]]

+

[[Category: ]]

 
⚫
 

[[Category:Blonde Hair]]

 

[[Category:Blonde Hair]]

 

[[Category:Teenagers]]

 

[[Category:Teenagers]]

 

[[Category:Tan skin]]

 

[[Category:Tan skin]]

 

[[Category:Tomboys]]

 

[[Category:Tomboys]]

⚫
 
---
Revision as of 21:44, 12 September 2017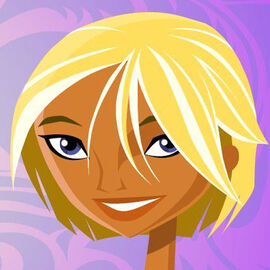 Fin McCloud is one of the six main characters on Stoked. She is fiercely independent and girlishly feminine, but also fun-loving and laid-back. She never backs down from a challenge and uses surf lingo on a regular basis. Fin has won first place in the Junior Surfing Competition three years in a row, and is ranked #56 in the world. Initially she was supposed to be the surf instructor at Surfer's Paradise, but Reef got the job instead and she was given a position in housekeeping.
Community content is available under
CC-BY-SA
unless otherwise noted.