| | |
| --- | --- |
| | This article needs more links. Please improve this article by adding links that are relevant to the context within the existing article. (June 2018) |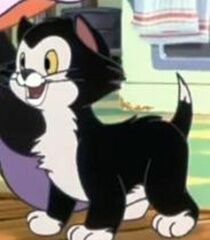 Figaro is Geppetto's pet Tuxedo Cat and the secondary tritagonist in Disney's 1940 film Pinocchio. He later appeared as Minnie Mouse's pet in several cartoon shorts.
Background
Figaro was created as a supporting character in the 1940 film Pinocchio. Like so many characters from that film, Figaro became a popular character with audiences and was given his own series of cartoon shorts as well as costarring in a few Pluto shorts as Minnie Mouse's pet cat.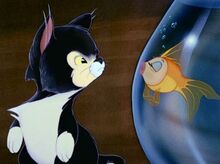 His roles in the shorts often dealt with him being heroic although one short, Pluto's Sweater, cast Figaro in an antagonistic role, where Minnie designed a sweater for Pluto and the other local pets laughed uproariously at Pluto for being made to wear it, mostly Figaro. When water shrinks the sweater, Minnie then realizes it is a perfect fit for Figaro. That short ends with Figaro angrily snarling that he is now in the sweater that he enjoyed bullying Pluto over, plus the lesson being "he who laughs last laughs best".
Personality
Figaro is based on, and acts like, an immature and spoiled little boy. He is easily angered but deep down has a heart of gold. He takes a disliking to many things including, but not limited to, waiting, baths, being made a fool of, dogs and giving Cleo a goodnight kiss.
In the shorts, his character was made less cuddly and more malicious and cat-like. He is a prime rival of Pluto as the two are constantly seen battling each other for different things, most notably Minnie's affections. Figaro usually enjoys tormenting Pluto when no one's around but occasionally learns to make peace with the pup. In recent years, Figaro and Pluto's relationship became far less hostile.
Disney Parks
Figaro can found all over the Disney theme parks. Figaro can be found in a few spots including Pinocchio's Daring Journey and Celebrate A Dreams Come True Parade. At Fantasy Faire in Disneyland Figaro can be seen sleeping in a window of one of the buildings occasionally being awoken by a caged bird that chirps familiar Disney songs.
In the Pinocchio's Village Haus restaurant, he appears in various murals retelling the Pinocchio Story, as well as serving as the namesake of Figaro Fries and appearing over the exit. A design flaw led to the exit signs not being properly centered at Disneyland and Walt Disney World's versions of the restaurant, so Figaro is shown pulling the sign on a rope to fix things. At Disneyland Paris, the problem was corrected and Figaro is shown leaning on the exit sign giving a thumb's up.
His namesake is used in a shop as well called Figaro's Clothiers located in the Mediterranean Harbor at Tokyo DisneySea.
Credit