| | |
| --- | --- |
| | This article needs more links. Please improve this article by adding links that are relevant to the context within the existing article. (June 2018) |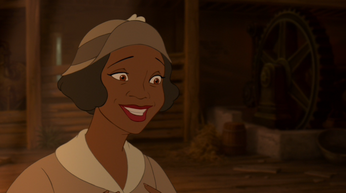 Eudora is a character from The Princess and the Frog. She is the mother of Princess Tiana and the wife (later widow) of James. She is her daughter's confidante and wants her to be happy. She also doesn't want her daughter to overwork too much. According to Mr. La Bouff, Eudora's the finest seamstress in all of New Orleans, having made most of his daughter's dresses (Eudora's very well-respected by the La Bouff family).
Appearance
In The Princess and the Frog, Eudora's seen as working as a seamstress and is married to James, Tiana's father. While she's very supportive of Tiana's dreams of becoming a professional chef and having her own restaurant, Eudora expresses concern for Tiana overworking herself. Similar to the King in Cinderella, Eudora really wants Tiana to get married and have children of her own so she can be a grandmother.
At the end of the film she is seen at the (second) wedding of Tiana and Naveen, followed by being seated with the king and queen of Maldonia in a carriage leading ahead of the married couple and last seen sitting at a table with Naveen's parents in Tiana's restaurant.