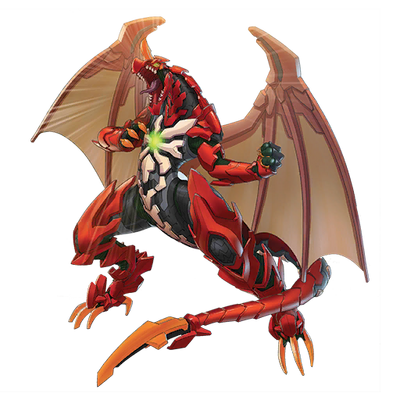 Drago is the main hero from the reboot series Bakugan Battle Planet. He is Dan Kouzo's partner and best friend and an bullying foil of Nillious. He is the reboot counterpart of his original counterpart.
Appearence
He is an red dragon with green eyes and a yellow-orange horn and on his tail blade. He has an chest of white and green including black. He has teeth which is red and he has an tongue.
Role
Drago first appears when he meets Dan Kouzo about the origins of Bakugans, he has his friends named Trox, Pegatrix, Gorthion, Howlkor, Turtonium and Hydorous who are friends who fight Nillious and other bad teams who want to use the Bakugans for malicious purposes, Drago dislikes being controlled by thugs, but he is freed when the Mind Core Cell gets destroyed. Despite being an dragon, Drago is an Bakugan who is the King of Bakugans, has an human language that he can communicate with his friends, likes to take down Nillious and the other bad teams.
Gallery
Community content is available under
CC-BY-SA
unless otherwise noted.