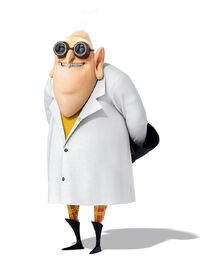 'Dr. Joseph Albert Nefario (simply Dr. Nefario') is the secondary antagonist of Despicable Me (the main antagonist being Vector and the tertiary antagonist being Mr. Perkins), a former supporting antagonist of  Despicable Me 2 and a minor antagonist in Despicable Me 3. He is smart, intelligent, cool, funny, tough, short-tempered, loud, arrogant, stingy, mischevious, abusive, powerful, selfish, angry, impatient, cold, cruel and greedy.
He is voiced by Russell Brand who also voices E.B.
He is an elderly, hearing-impaired scientist, gadget man and good friend of Gru. Being hearing-impaired causes him to mistake Gru's order for cookie robots and a dart gun for "boogie robots" and a "fart gun", respectively. He did briefly leave Gru to work for El Macho before redeeming himself and returning to work for Gru.
Dr. Nefario also appears in the 2015 Despicable Me prequel Minions as a young man taking part in the 1968 Villain Con where he shows off his invention The Freeze Ray whilst being watched on by a then 8-year-old Gru.
Community content is available under
CC-BY-SA
unless otherwise noted.