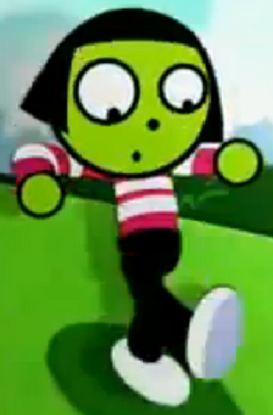 Dot is, Dee and Del's older sister and she is the secondary host of the PBS Kids channel. Dot is naturally curious, and because she is little, her curiosity often gets her into trouble, but she is quick to learn from her mistakes. She learns many things from her older brother and looks up to him – he is her best friend. Dot is playful, lively, vivacious and charming, and she likes meeting new people. Being an older sister, she is usually stuck babysitting her younger siblings and trying to get them out of trouble, but the four of them love each other just the same.
She has short black hair, a black nose, a pink shirt with white stripes, black pants, and white shoes.
T.I. is the voice of Dot, she was just eight years old at the time of voicing Dot, which is Dot's real age, and Dot goes to 3rd Grade. She also voices Agnes on Dispicable Me. She was replaced with Aja Wooldridge in her redesign, who was 8 at the time.
Voiced By
Gallery
Similar Heroes