| | |
| --- | --- |
| | This article needs more links. Please improve this article by adding links that are relevant to the context within the existing article. (June 2018) |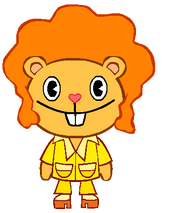 Disco Bear is one of the main characters in Happy Tree Friends.
Character Bio
A golden bear with an orange afro and two sideburns who likes to dance to disco music (thus his name). He wears 1970s style clothing, including a yellow leisure jacket, yellow bell-bottom pants, and orange and white dancing platform shoes. His main catchphrase is "Oh yeah!". If he gets interested in anything, he will growl in a deep voice. He sometimes puts everyone around him into life-threatening trouble while dancing, but mistakes their movements of pain for funky dance moves. He is mostly seen either showing off or trying to impress and flirt with other women, such as Giggles and Petunia and sometimes Flaky.  In Ski Ya, Wouldn't Wanna be Ya!, for example, he pushes Flaky out of the way as he enters the scene, then goes off to flirt with Giggles and Petunia. When Flaky is outside his door later in the episode, however, he seems to be happy to see her. In Rink Hijinks, he carelessly bumps Flaky into a floor buffer when he's trying to show off his roller skating skills.
Credit