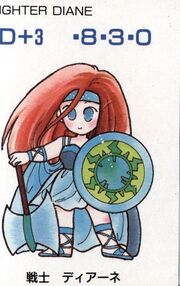 Diane is a Character of Monster Maker.
About
The first net domestic card battle game Shou Kikaku released the first album in 1988 One of the characters of "Monster Maker" series. A perfect award character from the first work. Long hair with volume, blue costume and huge Axe, which is characteristic of the lower half of the body. In the 1st work, it has attack power of 6D + 2, it does not suit the pretty appearance and is treated as the character of the strongest class in the same series. The origin of the name comes from the goddess Diana of the moon. Picked as the hero of the comic rise work "Monster Maker Saga". In that case the blue huge Ax was set as Holly Axe God Houghs trained. Also it was set that there was older brother · Helios. In the middle of this series, the design of the costume has changed slightly.
Gallery
Community content is available under
CC-BY-SA
unless otherwise noted.