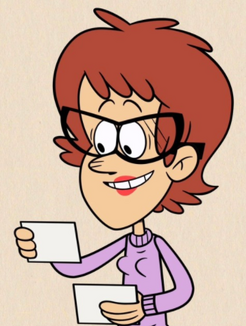 Dana Dufresne (previously known as Donnie Dufresne) is a minor character in The Loud House.
Biography
She first appeared in "Toads and Tiaras", where she was seen as the host and one of the judges of the "Miss Prim & Perfect" beauty pageant.
She reappeared in the episode "Gown and Out" as the host of the "Little Miss Southeastern Michigan" pageant. This was confirmed by Maddie Taylor, who voices the character and changed after her first appearance; in August 2019 Taylor revealed that the character would return again in a fourth season episode and that the staff had the character transition as well so she did not have to voice a male character.
Appearance
Dana is tall with fair skin, short red hair, and black glasses. She wears a pink sweater during practice and a blue dress in the actual pageant.
In her first appearance she had white hair with a patch of black and wore a gray tuxedo with a black bow tie and brown shoes. She also sported red sunglasses with yellow lenses.
Trivia
Donnie was Maddie Taylor's final male role before changing into a woman in late 2016.
Her Polish name is Daniel Borsuk.
References
Community content is available under
CC-BY-SA
unless otherwise noted.