| | |
| --- | --- |
| | This article needs more links. Please improve this article by adding links that are relevant to the context within the existing article. (June 2018) |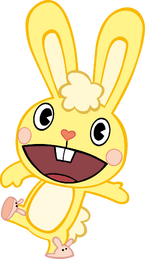 Cuddles is one of the main characters in Happy Tree Friends, and one of the four primary characters of the show, along with Giggles, Toothy, and Lumpy. He's considered the original Happy Tree Friend, despite Shifty being created first.
Character Bio
Cuddles is a yellow rabbit with pink cheeks who inexplicably wears pink bunny slippers. His white fluffy curly hair tuft and cotton tail look exactly the same. His ears move to match how he feels. For example, if he's happy they'll stay up, and when he's upset they'll drop. Cuddles is one of the primary characters in the series. Like Giggles, Toothy and Lumpy, he appears in many of the advertisements. Cuddles was the second character to be created in Happy Tree Friends (the first being Shifty). Creator Rhode Montijo first drew his in a piece of paper with the phrase Resistance Is Futile above and that was how the creators got the idea for the show. His voice is even performed by the co-creator of the show Kenn Navarro.
Occupations and Careers
Soccer Player - A Change of Heart
Christmas Play Actor - Class Act
Daredevil - Mime to Five
Journalist - See What Develops
Delivery Boy - Aw, Shucks!
Replacement Lead Guitarist/Rock Musician - In a Jam
Carol Singer - Kringle Carols, Deck the Halls; We Wish You
Swimmer - By The Seat Of Your Pants
Credit
Community content is available under
CC-BY-SA
unless otherwise noted.