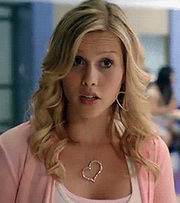 Chastity Meyer is a character from Mean Girls 2, played by Claire Holt.
Biography
Chastity is one of the Plastics, along with her friends Mandi Weatherly and Hope Plotkin. Her habit was to seduce guys and kiss them.
Quotes
I said Incognito not like a flamingo
OMG she changes her voice with ease! She has a heavy accent in real life.
I love ducks!
It's cute...
Ok so, one more time, she's never made out with anyone...ever...? Or this week?
How can you do that?
I'm not your slave Mandi!
I don't like you right now!
Yeah, a total saint!
Oh, Dirty Dancing?
Trivia
Chasity is the only blonde in The Plastics (in Mean Girls 2) While Gretchen (in Mean Girls) was the only brunette.
She loves snogging
Her prequel counterpart is Karen Smith
She loves to kiss boys, any boy who is willing to kiss her
She likes to seduce boys
She played Emma in the TV show H2O: Just Add Water.
"Chastity" means "the state or practice of refraining from extramarital sex".
Community content is available under
CC-BY-SA
unless otherwise noted.