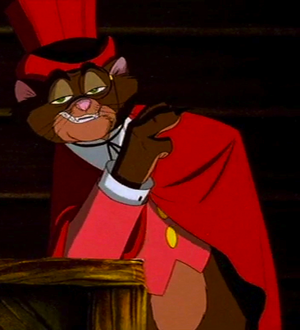 Cat R. Waul is the main antagonist in An American Tail: Fievel Goes West. Cat R. Waul's devious scheme seemed a long way to go just to feast upon a large number of mice. Waul is a businesscat, above such primitive and gruesome methods of collecting his food as chasing the mice down and eating them; 'an unnecessary expenditure of calories'. Instead, his plan was to travel to New York from Green River, and convince the impoverished mice there to move west, insisting that out west cats and mice were friends. And he forced his gang to keep up the act by being nice to the mice, much to their dismay. Fievel makes an enemy out of Waul when he overhears Waul's plan, and narrowly escapes being eaten when Waul opts instead to order Chula to give him 'the flying ahhh'. In a Deleted Scene, he Checks Miss Kitty's Teeth. Later, when Fievel attacks Waul with a fork, he narrowly escapes being eaten again when Waul overhears the enchanting singing voice of Tanya Mousekewitz. Completely entranced, he picks the unaware young singer up and brings her to Miss Kitty, ordering her to get Tanya ready to perform in his saloon, insisting that Tanya is his 'diva'. When he is finally ready to unveil his evil plan at the official opening of his saloon, Tanya is placed safely up above with Miss Kitty while the rest of the mice are on what is secretly a giant mouse trap, to be activated when he cuts the red ribbon in front of his saloon. It is then that Tiger, Wylie Burp and Fievel storm in to save the day, engaging them in a slingshot showdown that results in Waul being flung into a mail bag and picked up by a train, forced to endure the cuddles of his busty owner.
In essence, Waul is a well pampered and cultured house cat, with a mind for complex and evil schemes. It could be that his owner makes frequent trips to and from Green River and New York. His schemes tend to be somewhat more crude in Fievel's American Tails, where he often actually does resort to simply chasing the mice down and trying to eat them, and he is treated more like a generic villain in the series.
Gallery
Community content is available under
CC-BY-SA
unless otherwise noted.