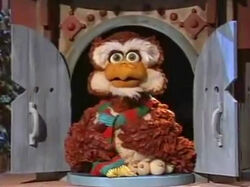 Bubo is one of the Muppets on Barrio Sésamo, the Spanish co-production of Sesame Street, having appeared from 1996 to 2000.
Bubo is a brown owl who spoke with an adult-like, slow voice. He is an intellectual adult offering a view of extreme learning. He is one of the adults interacting with childlike Bluki to offer him an interesting approach to learning.
The name "Bubo" is a variation of "búho", the Spanish word for "owl".