This character has been used under the following names below. Navigate using the arrows or by clicking on a name listed on the navigation bar to jump to a specific character name you want to read.
Other characters for Bubbles Gum
|
Next →
Brenda • Bubbles Gum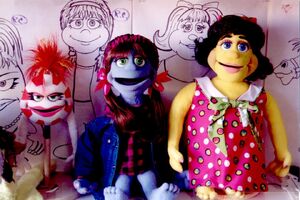 Bubbles Gum is the main characters in The Adventures of Timmy the Tooth as Timmy's sidekick.
The puppet later appeared on PuppetGreetings video e-card sketches as Brenda who seems to have derogatory behavior towards Water Cooler Bob.
Appearences
The Adventures of Timmy the Tooth
Puppetgreetings.com (as Brenda)
Community content is available under
CC-BY-SA
unless otherwise noted.