This character has been used under the following names below. Navigate using the arrows or by clicking on a name listed on the navigation bar to jump to a specific character name you want to read.
Other characters for Bubbles Gum
|
Next →
Brenda • Bubbles Gum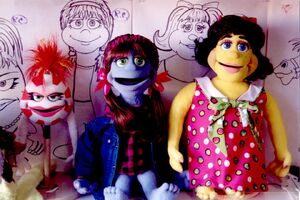 Bubbles Gum is the main characters in The Adventures of Timmy the Tooth as Timmy's sidekick.
On the early artwork made by Drew Massey back in 1992, Bubbles was first designed from a pink puppet pattern with white hair who appears to be (although they're not Muppets created at The Jim Henson Company and instead built by Bob Fappiano) made out of a whatnot puppet designed for the early builds of the Trumpet Girl.
The puppet later appeared on PuppetGreetings video e-card sketches as Brenda who seems to have hilarity towards Water Cooler Bob.
Appearences
The Adventures of Timmy the Tooth
Puppetgreetings.com (as Brenda)
Community content is available under
CC-BY-SA
unless otherwise noted.