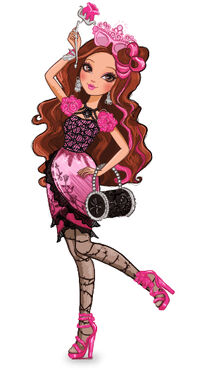 If I'm gonna be catching Z's for a hundred years, I gotta live it up now!Briar Beauty
Briar Beauty is the daughter of Briar Rose, the protagonist of Sleeping Beauty. She is aware that her destiny requires her to be asleep for a hundred years, but doesn't seem to have any problems with the course of her story as she's looking forward to her happily ever after.
Portrayers
In English, Briar Beauty is voiced by Kate Higgins.
In Latin American Spanish, Briar Beauty is voiced by Cristina Hernández.
Character
Personality
Briar knows she is going to be asleep for a hundred years, so until then, she lives life to the fullest. She enjoys doing things spontaneously such as pulling stunts, and is known for throwing parties. She tends to spontaneously sleep in random places at random times.
Appearance
As the next Sleeping Beauty, also known as Briar Rose, Briar's big fashion motif are roses and thorns. She utilizes their imagery as print, jewelry, and even hairstyle. Her colors of choice are pink and black, accentuated with silver accessories. Briar has wavy brown hair with pink streaks running through it, light brown skin, and brown eyes.
Fairy tale
Relationships
Family
Briar's parents are Sleeping Beauty and the prince. Briar has eight little brothers. In The Unfairest of Them All, it is revealed that the Beauty of The Beauty and the Beast is Briar's aunt by means of being her mother's sister. As such, Rosabella is Briar's cousin.
Friends
She is best friends with Apple White, going so far as to help her decorate the half of Apple's dorm room that belongs to Raven Queen without taking any credit. She also lists Blondie Lockes as a best friend in her bio, and is close to Ashlynn Ella, with whom she shares a dorm.
Pet
Briar gets her pet unicorn named Divacorn in The Storybook of Legends.
Romance
Aware of her story, Briar knows that her one true love will not show up for a hundred years, so dating is a non-issue for her at the moment. Hopper Croakington II has let her know he likes her, but she is repelled by his awkward come-ons.
External Links