m

Line 1:
Line 1:
−

{{CReusedcharactersprevonly|Previous character name = Bubbles Gum (Timmy the Tooth)|Character name = Bubbles Gum|Characters = [[Brenda (PuppetGreetings)|Brenda]] • [[Bubbles Gum (Timmy the Tooth)|Bubbles Gum]]}}

+

{{CReusedcharactersprevonly|Previous character name = Bubbles Gum (Timmy the Tooth)|Character name = Bubbles Gum|Characters = Brenda • [[Bubbles Gum (Timmy the Tooth)|Bubbles Gum]]}}

 
 
 

[[File:Brenda_Whatnot.png|thumb|300px|<center>Voice</center><br><center>[[File:Whatnot_Brenda_Voice.ogg]]</center>]]

 

[[File:Brenda_Whatnot.png|thumb|300px|<center>Voice</center><br><center>[[File:Whatnot_Brenda_Voice.ogg]]</center>]]

Line 6:
Line 6:
 
 
 

==Sketches==

 

==Sketches==

−

{{Template:Multiple image

+

{{Multiple image

 

|align = left

 

|align = left

 

|direction = horizontal

 

|direction = horizontal
---
Revision as of 05:03, 2 February 2016
This character has been used under the following names below. Navigate using the arrows or by clicking on a name listed on the navigation bar to jump to a specific character name you want to read.
← Previous
|
Other characters for Bubbles Gum
Brenda • Bubbles Gum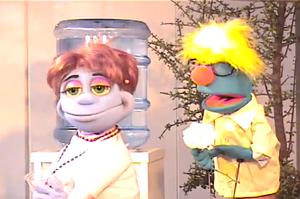 Brenda is a blue female puppet with yellow eyes. She appeared on some Puppetgreetings sketches with Bob who wants a kiss from her. She also appears in another sketch called Puppets Gone Wild where she lifts up her pink shirt to reveal her breast (which are censored). She is a recycled version of Bubbles Gum from The Adventures of Timmy the Tooth.
Sketches
Community content is available under
CC-BY-SA
unless otherwise noted.