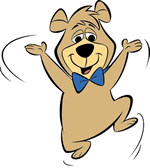 Boo Boo Bear
is
Yogi Bear
's friend a Hanna-Barbera cartoon character on The Yogi Bear Show and Yogi's constant companion. Boo-Boo is portrayed as an anthropomorphic bear cub wearing a blue bow tie. Boo-Boo often acts as Yogi Bear's conscience. He tries (usually unsuccessfully) to keep Yogi from doing things he should not do, and also to keep Yogi from getting into trouble with
Ranger Smith
. Often he would say "But Yogi, Mr. Ranger isn't gonna like this," or some variation. It is not readily apparent whether Boo-Boo is a juvenile bear with a precocious intellect or simply an adult bear who is short of stature. However, in the episode "Cub Scout Boo-Boo", Yogi tries to persuade Boo-Boo to become a Boy Scout. Boo-Boo declines the offer, but Yogi corrects him by saying that he will be joining the "Cub Scouts", which Boo-Boo accepts.
History
Hanna-Barbera appearances
Boo-Boo first appeared along with Yogi in the "Yogi Bear" segment of The Huckleberry Hound Show in 1958; when Yogi was given his own series in 1961, Boo-Boo went with him.[1] Since then, Boo-Boo has remained at Yogi's side through almost all of the Hanna-Barbera series, movies, and specials in which Yogi appeared, the only exceptions being Yogi's Space Race and Galaxy Goof-Ups, in which Boo-Boo's place was taken by a new character named Scare Bear. Boo-Boo's classic voice actor was Don Messick who also voiced Ranger Smith.[1]
Boo Boo Bear also refers to Shanna Anick [1]
Other appearances
TV Series, Movies and Specials
The Huckleberry Hound Show
The Yogi Bear Show
Hey There, It's Yogi Bear
Yogi Bear & Friends
Yogi's Gang
Laff-A-Lympics
Caper's First Christmas
Yogi's First Christmas
Yogi Bear's All Star Comedy Christmas Caper
Yogi's Treasure Hunt
Yogi's Great Escape
Yogi Bear and the Magical Flight of the Spruce Goose
The Good, the Bad, and Huckleberry Hound
Yogi and the Invastion of the Space Bears
The New Yogi Bear Show
Hanna-Barbera's 50th: A Yabba Dabba Doo Celebration
Wake, Rattle, and Roll
Yo Yogi!
Yogi the Easter Bear
Scooby-Doo! In Arabian Nights
Yogi Bear (2010)
Yogi Bear 2 (2017)
Gallery
References
↑ 1.0 1.1 1.2 "The Internet Movie Database". Boo-Boo Bear Filmography
Community content is available under
CC-BY-SA
unless otherwise noted.