| | |
| --- | --- |
| | This article needs more links. Please improve this article by adding links that are relevant to the context within the existing article. (June 2018) |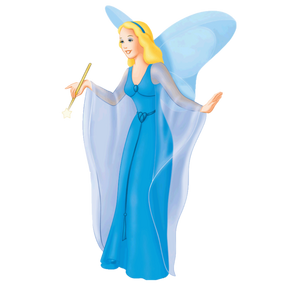 The Blue Fairy is a major character in the 1940 Disney animated feature film Pinocchio.
She is a magical being who, fulfilling Geppetto's wish, transforms Pinocchio into a living being and later into a real boy. She also aids Pinocchio and Jiminy Cricketthroughout their adventures, both directly and from afar.
One of only two female characters in the film (the other being Cleo), she is nevertheless one of the most powerful characters in the cast; it is she who initially grants Pinocchio life and who ultimately decides whether or not he should become a real boy.
Design
In a story meeting of January 12, 1939, Walt Disney specified that the Blue Fairy was to 'give the appearance of loveliness... (but not look like) a glamour girl'. Early model sheets and inspirational sketches reflect this concept, depicting the character as an ethereal beauty with swirling, billowing clothes and loose, unkempt hair (to reflect the fact that the fairy has literally flown in). At some point in development, this design changed to a less ethereal figure, with human proportions. This final version of the character, with her glittery dress, solid hair, and more human proportions, suggests the inspiration of Jean Harlow and thus ultimately resembled the 'glamour girl' Disney had initially been anxious to avoid; however, Disney seemed pleased with this version of the character, whose newly-found sexual allure worked on both Jiminy Cricket and the men working on the film, who reportedly whistled on first seeing a color test of the Blue Fairy.
Animation
Jack Campbell's animation of the Blue Fairy closely followed live-action footage of Marge Champion (who was also the performance model for Snow White) under the direction of Hamilton Luske. Oskar Fischinger, a famous abstract filmmaker from Germany who had been hired by Disney primarily to help with Fantasia's abstract Toccata and Fugue in D Minor segment, was responsible for animation of the Blue Fairy's magic, including the effects surrounding her when she first enters the workshop and the beams of light emanating from her wand.