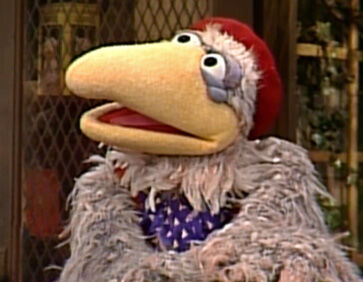 Birdnardo Birdolucci is a famous bird director who appears in Episode 2575 of Sesame Street. He and David have been friends ever since he served him the best birdseed sandwich he ever had. Birdnardo asks David to assist him with his latest movie masterpiece, but David instead nominates an excitable Gina for the job. With her help, he produces a film entitled The Last Egg starring Snuffy, Alice and Big Bird (who also wrote the picture).
Birdnardo Birdolucci is a spoof of Italian film director Bernardo Bertolucci. Among his other directorial works are Planet of the Eggs (parts 1 and 2), Eggs-orcist, Eggs: Italian Style, The Sound of Egg and Singin' in the Egg.
The same puppet was initially used in Follow That Bird as a part of the Board of Birds. He was also used years later in a season 45 episode as the chief justice of the Supreme Bird Court (played by David Rudman).
Community content is available under
CC-BY-SA
unless otherwise noted.