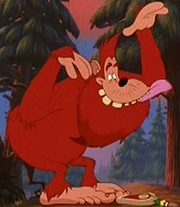 Bigfoot is a minor character of the film of A Goofy Movie. He is voiced by Frank Welker.
Biography
Bigfoot first appeared when he was eating a tree bark, and starts to eat the steak but he follows it to the river and got lured by Goofy and Max by using a fishing pole. Bigfoot then scares Goofy & Max back to camp and he has them trapped in their car. Then he starts pulling off pieces of the camera, and then when Goofy and Max looks at him, he has the car keys and throws them away. Then he was making an act on sock puppets and runs back. When he looks at Goofy trying to get a can of alphabet soup on the front of their car, he was starting to come to Goofy & Max, but he got hit. However, a set of headphones landed into his ears and listens to the song "Stayin' Alive" by The Bee Gees and he enjoys listening to it. Then Bigfoot was getting on top of their car and started to fall asleep.
Gallery
For a full gallery of Bigfoot and it's characters that's been on other shows, See Bigfoot (Goofy Movie)/Gallery.