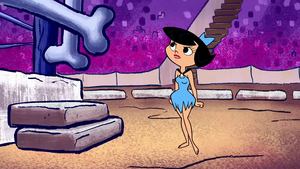 Elizabeth "Betty" Jean McShale-Rubble is a cartoon character in the television animated series The Flintstones and its spin-offs and live-action motion pictures. She is the very attractive, unbearably beautiful and insanely sexy black-haired wife of caveman Barney Rubble, the mother-in-law and godmother of Pebbles Flintstone, the paternal grandmother of Chip and Roxanne "Roxy" Rubble and the adoptive mother of Bamm-Bamm Rubble. Her best friends are her next-door neighbors, Fred and Wilma Flintstone. Betty lives in the fictional prehistoric town of Bedrock, a world where dinosaurs coexist with cavepeople and the cavepeople enjoy primitive versions of modern conveniences such as telephones, automobiles and washing machines. Betty's personality was based on that of Trixie Norton, wife of Ed Norton on the 1950s television series The Honeymooners; each of the four of the series' principal adult characters is an analogue of a Honeymooners character. Much as Trixie spent a lot of her time socializing with Alice Kramden, Betty spent a lot of her time socializing with Wilma, and the two would often end up working together to bail their husbands out of whatever scheme of Fred's had landed them in trouble.
Gallery
Community content is available under
CC-BY-SA
unless otherwise noted.