This character has been used under the following names below. Navigate using the arrows or by clicking on a name listed on the navigation bar to jump to a specific character name you want to read.
← None | Other characters for {{{Character name}}}

{{{Characters}}}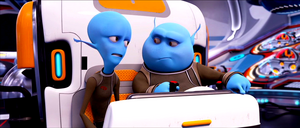 Barry is a Baabian janitor who cleans up messes in the BASA. He accidently hits himself with a broom making it impossible to do his cleaning job right. In one scene of the film, his eyes were crossed after drinking the Dark Planet Cola he is allergic to.
The character used for Barry is a modified version of the nameless Milkman alien from Planet 51.
Gallery
For a full gallery of Berry, see Barry (Escape from Planet Earth)/Gallery.
Community content is available under
CC-BY-SA
unless otherwise noted.