Barriss Offee is a fictional character from the Star Wars franchise. Portrayed by  actress Nalini Krishan in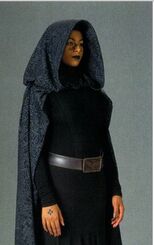 Episode II: Attack of the Clones, Offee also appears in the books Star Wars: The Approaching Storm, MedStar I: Battle Surgeons, and MedStar II: Jedi Healer. She also made several appearances in the television series Star Wars: The Clone Wars. A Jedi Padawan paired with Master Luminara Unduli , Barriss Offee participated in the mission to Geonosis to rescue Anakin Skywalker, Obi-Wan Kenobi, and Padme Amidala. Offee fought in the Clone Wars until being killed by her own troops on Felucia.  
Community content is available under
CC-BY-SA
unless otherwise noted.