| | |
| --- | --- |
| | This article needs more links. Please improve this article by adding links that are relevant to the context within the existing article. (June 2018) |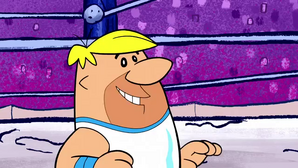 Bernard "Barney" Rubble is a cartoon character who appears in the television animated series The Flintstones. He is the diminutive, blond-haired caveman husband of Betty Rubble and adoptive father of Bamm-Bamm Rubble. His best friends are his next door neighbors, Fred and Wilma Flintstone.
Barney's personality was based on that of Ed Norton on the 1950s television series The Honeymooners, played by Art Carney. Like Ralph Kramden on The Honeymooners, Fred was constantly on the lookout for get-rich-quick schemes, while Barney, like Norton, found life satisfactory as it was but participated in said schemes because Fred was his friend. Usually after Fred had hatched one of his plans, Barney would usually show his agreement by laughing and saying "er huh huh... OK, Fred!" or "huh huh huh... whatever you say, Fred!"
In early episodes, Barney had a "New Jersey" accent, but when Barney's accent was getting too annoying, it was changed to a deeper, more chuckle-like voice. In On the Rocks and Stone-Age Smackdown, his Jersey accent returns.
Barney's interests included bowling, playing pool, poker, tinkering around in Fred's garage and playing golf (though there were episodes where Barney did not know how to play golf). He, like Fred, was also a member of the Loyal Order of Water Buffaloes lodge and its predecessor in earlier episodes, the Loyal Order of Dinosaurs. He is also a talented pianist and drummer. In the first episode of the original series he was an inventor of a human-powered helicopter. Though clearly depicted as being in better shape than Fred, he isn't shown to be quite as enthusiastic a sportsman as Fred is. This distinction can be attributed to Fred's fondness for food, though Barney is shown to be almost as capable of excessive appetite on a number of occasions.
Gallery