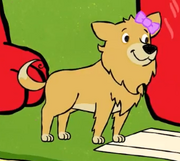 Bailey Blair Mulberry appears with Tucker in Things That Go Bump.
She is accompanying Samantha. This Australian Shepherd is the revival equivalent of Cleo from the 2000s animated television series. 
Other appearances
In Sherlock Bones she says donuts are salty.
In Coming Soon! she relates "one day Samantha and I were supposed to go on a big hike"
In Very Big Red Riding Hood after putting down the Little Red Biscuits she says Clifford is her BEST friend. She then licks him at the episode ends and they conclude their duet.