Warning
This article contains content that may be unsuitable for younger viewers. It may contain cursing, sexual references, alcoholic references, and violence. Should you not want to subject yourself to such things, please return to your previous page.
Viewer discretion is advised.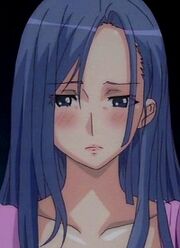 Ayaka Tomikura or 富蔵彩花 (とみくら あやか) is a character from the hentai Kagachi-sama Onagusame Tatematsurimasu: Netorare Mura Inya Hanashi and from the CG game. She is a step-mother and a wife.
Biography
She is 33 years old. She is a priestess for the god Kagachi Sama. She is in love with her step son. She spend her entire life in the village Shiranawa.
Story
In her village Shiranawa there is a tradition of orgies in for the snake god Kagachi. One day her step-son (Takahiko) who is disappointed as sex with her wife comes back to the village where Ayaka lives. In fact he loved her during his chilhood (Non-blood-related Mother). Takahiko witnessed the scene where Nagataro did gangbang Ayaka at the summer festival that he visited just after the wedding and offered a bribe to a banquet with the authorities of the surrounding area, and it has become exciting. Takahiko will leave the village. From an early age, they called themselves "Ayanee" "Taka-kun" and loved Takahiko, and Ayaka had a weak love for Takahiko.
Physical description
Hair: Blue, long, parted to Side Eyes: Blue
Body: Mole, , Big Ass, E+ Cup, Pale, Young-adult, tatoo
Clothes: Baby-doll, Bodystocking, Crotchless Panties, Cupless Corset, Detached Sleeves, Dress, Fishnet Clothing, Fishnet Stockings, Glasses, Kimono, Open Cup Bra, Sweater, Tabi, Transparent, Zouri
Relationship
Tomizo Aimi: She is priestess with her.
Takahiko Tomizo : Her step-son
Tokuzo Chotaro: Her husband
Voice actor
She is dubbed by Harumi Asai in the anime

She is dubbed by Momozono Kaoru in the Visual Novel
Gallery
Source
http://animeperson.com/character/ayaka_tomikura/
https://anidb.net/perl-bin/animedb.pl?show=character&charid=58310
http://www.orcsoft.jp/orc006/spec.html
Community content is available under
CC-BY-SA
unless otherwise noted.